Cotna Eco Retreat
Cotna Barton, Gorran, Cornwall PL26 6LG
Glamping at campsite or camping ground Cotna Eco Retreat
A unique haven of peace and tranquillity in Cornwall with comfortable eco-accommodation in yurts, a shepherd's hut and a strawbale barn – all within a gorgeous 10-acre organic farm.
Cotna Eco Retreat is spectacularly situated its own lush green valley close to several beautiful beaches here in Cornwall – Gorran Haven, Vault, Hemmick and Caerhays are all within a 30 minute walk along dog friendly coastal paths or quiet Cornish lanes. Relax in tasteful Cornish holiday accommodation and enjoy our delicious organic food – fresh salad leaves, golden organic eggs, sourdough bread, jams and chutneys. Or participate in one of our courses, learning about wild food foraging & cooking, sourdough bread making or no-dig organic gardening.
Enjoy your stay on the south coast of Cornwall camping (or glamping if you prefer) in one of our two beautiful yurts, or choose the slightly more luxurious self-catering Straw Bale Barn. Our yurts and holiday barn overlook our valley of organic apple orchards, vegetable and fruit gardens, streams, ponds and woodland. Nearby you can visit Cornish landmarks like The Eden Project, The Lost Gardens of Heligan and the proper little fishing village of Mevagissey. At the end of your explorations, relax with a drink or a meal at the excellent Barley Sheaf Pub, just a 5-minute walk up our track.
Our holiday yurts are the only two right on the South Coast of Cornwall! Both are named after Cornish apple varieties growing in our orchards. They are available from March through to October. Both can accommodate 2-4 people and there is also space for eco camping outside Tregonna.
The two orchards they sit in are contained by ancient Cornish stone walls, oak and hazel woodland, a running stream with watercress and coloured willow plantings. These magical and secluded surroundings make it an ideal place for retreats and quiet holidays—for individuals, couples or small groups of friends and family.
Both yurts were expertly crafted by Joel Cudsen of Avalon Yurts in Somerset – from local ash, sail canvas and robust polycotton. They are amazing constructions - there is something very special about staying in a round space! They copy the Mongolian yurt design, managing to contain sleeping, cooking & living accommodation comfortably while maintaining a sense of space and light from the central crown. Both have woodburners and solar lighting.
Gallery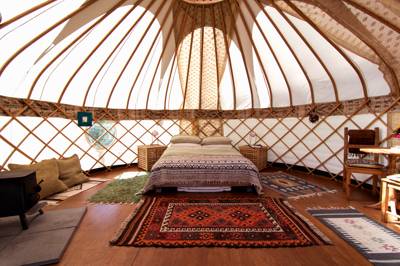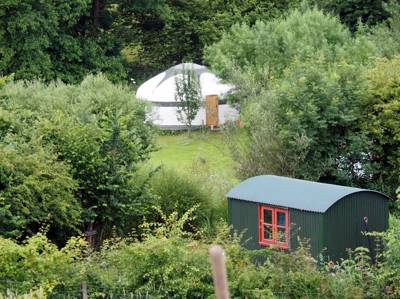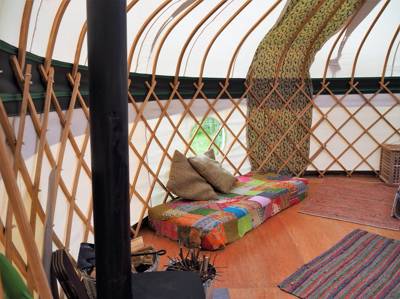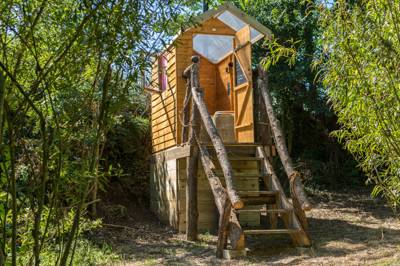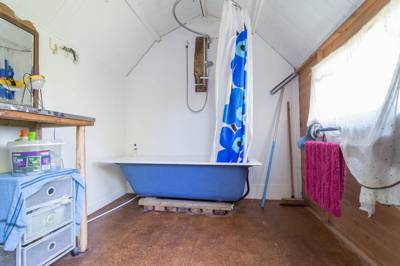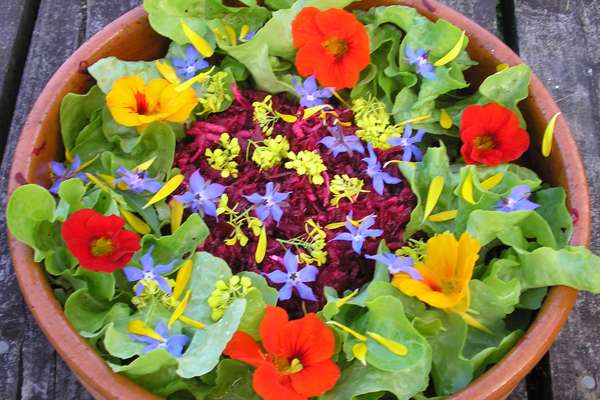 Reviews from Cool Camping
A true retreat
This is a very special place, the kind of place where you arrive and you feel no need to leave as it gives you everything you've been searching for. Its a beautiful little valley with its own natural springwater filtered through all of the taps and food grown on its own soil with the love of Sara & Dave and the people who help on the land. We left feeling nourished and inspired and I attended a mini yoga retreat there which was just lovely. Highly recommend if you want to connect back into nature and take some time out. We stayed with our baby Hari and all of us loved the Cotna experience. There are beautiful walks to the sea and nearby villages too but you can really just relax, check out the animals, forage and cook the lovely food grown in Cotna. Highly recommend all of the food hampers for breakfasts and dinners and Dave's homebrew cornish cider!
Idyllic Cotna
Sara and Dave are running a very special place. We feel lucky to have found it and spent time there (and with them and their lovely cats and dogs). We stayed in the strawbale studio for two nights. It was so cosy - with a lovely old woodburning stove, and a simple but useful kitchen. The bed was really big and comfortable - not your typical camping bed! We had Sara's breakfast hamper; it was delicious! Homemade jam, fresh organic eggs and salad leaves from Cotna, and some of the best home-baked sourdough you'll ever taste! We bought two more jams to take home with us (and are already running out!). We also did Sara and Dave's wild food foraging walk and cooking experience. It was one the highlights of our honeymoon! Dave is SO knowledgeable on all plants, and has many interesting facts and stories about each. Sara is a wealth of knowledge on wild-food cooking. Together we made delicious, surprising food from what we had foraged. We had a wonderful evening eating and talking together; Sara and Dave are fascinating to talk to. Their commitment to a sustainable, eco-friendly, homegrown way of life is so inspiring. We just love Cotna and will be back! (If you get the opportunity to try Dave's home-brewed cider, don't pass it up!)
Best ever family holiday!
We spent a truly magical week at Cotna with our 3 young boys, the eldest who summed it up perfectly by saying "it's like staying in paradise!" The gardens are beautiful as are the yurts (we stayed in Fern Pippen).We loved having Sara's freshly Baker sour dough bread with homemade blackcurrant jam for breakfast every morning, then freshly picked Cotna salad for our lunch. The boys loved 'helping' Dave with the chickens/horses/salad picking/weeding and would have been happy to spend all day at the site, if we hadn't dragged them off for walks to numerous stunning beaches. Cotna is a magical place where we enjoyed lots of campfires, stargazing and time and space to relax in beautiful surroundings. We have left feeling peaceful and relaxed - all agreed best family holiday ever!
Our Favourite place in the UK
We've been back now so many times to this magical space. Either in the Yurt, Shepherds Hut or Straw-bale studio we've had an amazing time. Our favourite is probably a sourdough bread and freshly laid eggs breakfast on the sun-drenched Studio deck, before a spectacular walk to Vault Beach - far from the madding tourist crowds. Sara and Dave are incredible hosts, and well worth making the time for a chat (if you can catch them wizzing around running an organic small-holding). The sustainability and care for the land is very evident, and I was happy my stay was environmentally constructive, and supporting this amazing place.
No better place to be..
We stayed at Cotna for 4 days and had a great time. We love everything : the cosy yurt, the beautiful valley and woodland, the peaceful space, the starry nights and the babbling brook, the bountiful vegetable garden, the picturesque walks to the coast, our lovely hosts and the super friendly locals at the pub on the open mic night :) We have two teenagers and a dog and everybody had a fantastic time. We'll be back!