Abberton Shepherds Hut
Manor Farm, Abberton, Pershore, Worcestershire WR10 2NR
Glamping at campsite or camping ground Abberton Shepherds Hut
Off the beaten track glamping on a Worcestershire working farm, with stunning views and a storybook setting so timeless it's almost fictional.
A unique shepherds hut situated on a 260 acre working farm in a small village called Abberton. This particular area of the country has very low rainfall and is famous for their fruit and veg because of the consistent great weather. This unique village has had no building increase for at least 50 years, it is stunningly English with a very friendly and welcoming community.
Gallery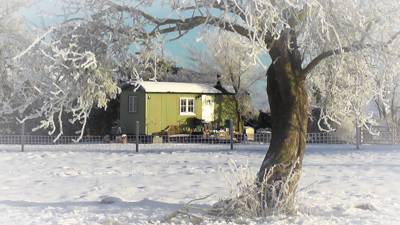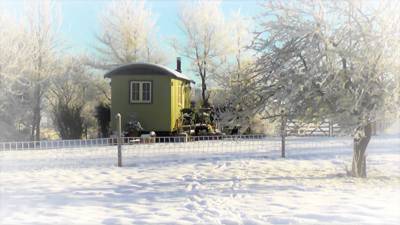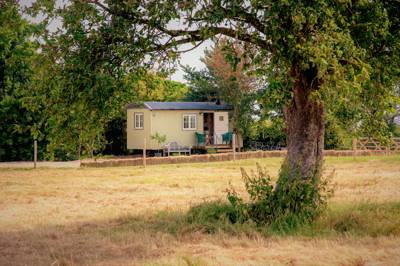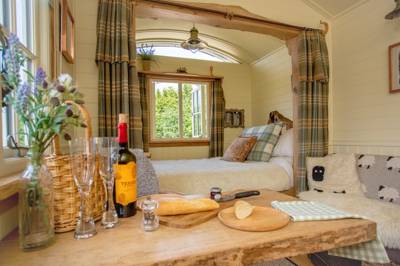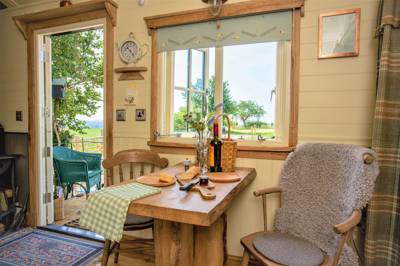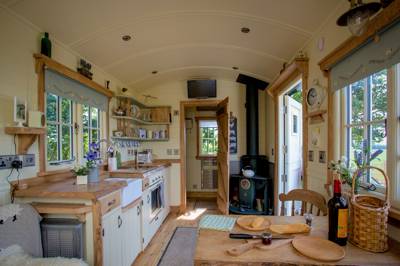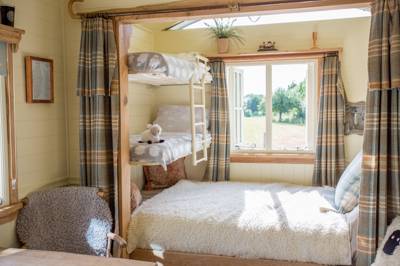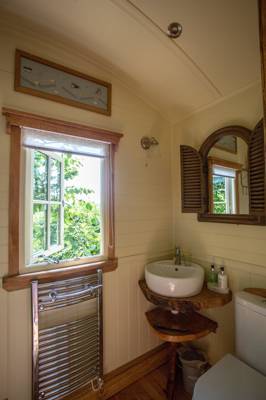 Reviews from Cool Camping
Short Stay
We found Abberton on line...wanted to stay within easy reach of NEC this was ideal. We stopped two nights wanting to relax, go to a funeral in Nottingham go to the Spring Fayre at the NEC but also check out a Shepheards Hut as we have two self build kits on order ourselves. What an eventful two days..topped by the exceptional quality and detail we experienced at the Apperton Shepherds Hut along with the attentive attention given by Catrionia and Alec. The quality and detailing of the Shepherds hut is exceptional and a joy to stay in ....we loved it . Thanks Again Owen & Ali
Perfect hideaway
This hut is in a beautiful quiet location, with wonderful views. The hut is designed with a fantastic homely and cosey feel whilst being full of functional creature comforts. The local knowledge and tips from the owner are invaluable when looking for walks and dinning suggestions. Theres also has plenty of local produce available in the hut and from the owners, who couldn't be more friendly and help throughout our stay. Graham & Sophie
A Real Gem!
Walking into the hut was a truly magical moment. You have created an absolutely gorgeous hut, the attention to detail is truly amazing. It was a Birthday treat for my partner, a night in a hotel and a night in a Shepherds Hut, the Shepherds Hut won hands down! So lovely to find this beautiful hut so close but feels a million miles away from reality. Loved waking up to hear the cows, loved the ducks and chickens. The eggs and meat was amazing..Thank you so much Cationa & Alex. We look forward to returning. Maggie & John xx
Beautiful peaceful place to stay, could have stayed even longer
I loved my time at Abberton Shepherd's Hut, what a lovely little place to stay. The hut itself was a delight to spend time in, there was everything there I needed and if there wasn't then nothing was too much trouble for Alec and Catriona to sort out quickly - Alec even sorted out the BBQ for this BBQ novice. Wonderful scenery and views from the hut and in the immediately surrounding area, so peaceful - I'm likely to return and would recommend it to others, even if it means it's booked out the next time I want to visit!
All the comforts of an amazing hotel with all of the benefits of being out in nature
We absolutely loved it here! From the minute you walk in you can tell that it has been designed by someone who understands what it means to live with comfort and cosiness. We didn't want to leave. We booked our stay for 3 nights and could have easily stayed for longer. It had everything we needed, from local gin & tonic as part of provisions stock inside, a full working oven and outside BBQ area and a very comfy bed, we had everything we needed for a full city detox. We ended up cooking every night at the cabin, buying wonderful ingredients from the best farm shop we've ever been in and enjoying some of the produce from the farm itself. The eggs were delicious. It is so quiet and serene here, it was a great place for us to chill out away from the city, get out on our bikes on long rides exploring the local sights to see and simple enjoy the beautiful scenery right outside the cabin. We've stayed in good hotels all around the world yet the personal and high quality touches in this cabin really give them a run for their money. We'll be back in a heartbeat, and are already planning to rebook for October, where the great wood burning stove in the cabin will make for a cosy Autumn break. Thanks for having us xx