Ty Barcud
Berllan Deg, Cnwch Coch, Trawscoed, Aberystwyth, SY23 4LQ
Glamping at campsite or camping ground Ty Barcud
Peaceful, private pod glamping with spectacular views and amiable hosts.
Ty Barcud is a luxury cedar glamping pod set on a hilltop meadow commanding wonderful views of the Ystwyth Valley, nine miles from the seaside town of Aberystwyth. The pod is self contained with a double bed, kitchenette, wet room - everything you need for a restful break. Outside there is a patio with furniture to relax and look at the views, a fire pit and barbeque, a hammock and a two acre meadow/woodland for your enjoyment. It is an idyllic place for two people to escape the hustle and bustle of everyday living and to enjoy the many delights of beautiful Mid Wales.
Gallery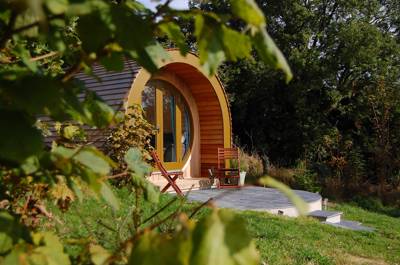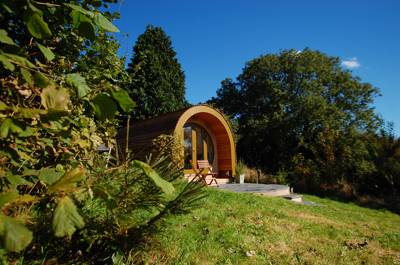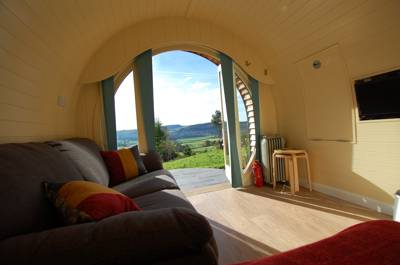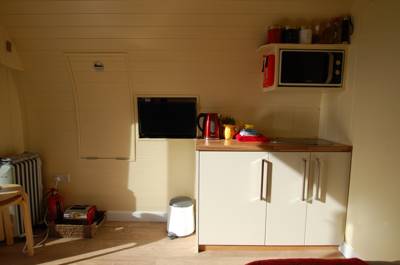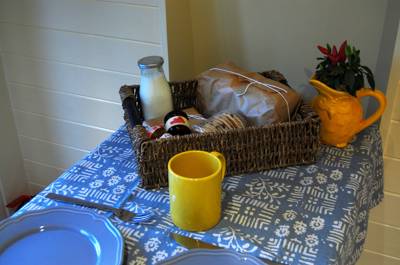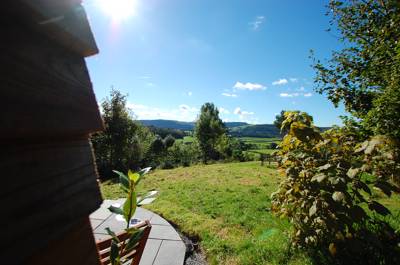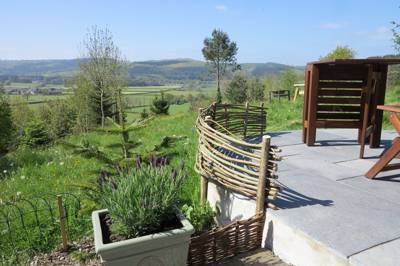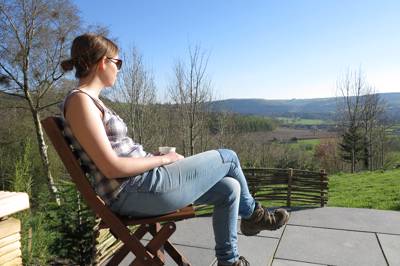 Reviews from Cool Camping
Great New Year trip
We had a fantastic stay here for the New Year. The views are stunning and we had a great time despite nearly constant rain! Everything we needed was provided, our hosts were very welcoming but completely respected our privacy during our stay. Lots of personal touches like some Christmas decorations really made the place feel special. Want to come back soon.
Will be returning!
Wow. What a fantastic place!! Thank you so much for a lovely weekend, just wish we could have stayed longer. Everything was ready and set out for us arriving and Barb gave us a tour and made sure we were okay with dogs and chickens. Showed us where everything was and whether we wanted the WiFi on or not which we said no to! We had a wonderful off-grid weekend, visited places recommended in the welcome book and finding places we hadn't been to before. To be able to turn off the light and see nothing but darkness meant we were able to fully unwind and had the best night's sleep in a long time. Bed was comfy, cabin was cozy and warm and we didn't have any distractions and weren't disturbed by any neighbours or chickens! The welcome basket of breakfast goodies and Welsh cakes was amazing and we had a fried breakfast both mornings we were there. Thank you so much for a truly wonderful weekend away. If anyone is looking for a place to unwind and reconnect with your partner, this is the place to go. We shall return!
When can we come back?
We have just come back from a three night stay at Ty Barcud, and we absolutely loved it! Barb & Hugh were so friendly, welcoming and accommodating of their little piece of paradise. We've been to a glamping pod before, but nothing like this - it really is luxurious, and all of your needs are catered for. (Make sure you take advantage of the welsh breakfast basket). We loved spending the evenings BBQing and sitting by the firepit (lots of wood provided & marshmallows etc!), but there is a kettle, a single induction hob, a toaster, an electric shower (i.e. hot water!) and a heater if the weather isn't so good. There is a good amount of storage under the bed and the space in the pod has really been utilised to the best advantage. We also loved the area, there are plenty of things to do, within a 20 minute drive, you can be on the beach or lost in the forest, and there is lots to see and do. Staying at the pod, with your private meadow, is a perfect way to escape the world and enjoy the local scenery. We highly recommend it, and hope to be back ourselves.
What a gem
We visited Ty Barcud at the end of June and stayed for 5 nights. It was perfect, Barn and Hugh had thought of everything to make staying there a real pleasure. The pod, the location and fabulous views over the valley would be enough to give a 5 star review, but add to that the attention to detail, the little extras that have been thought of, together with the warm and friendly welcome it is impossible to find anything negative to say. Would highly recommend.
PEACE PERFECT PEACE
AUG 11/12 2017 Sue & Dave Probably the quickest/,easiest review I've ever written.... Ty Barcud = Absolute perfection. Met at the gate by the lovely owners..Barb and Hugh, Shown "our" path, through "our" meadow to the amazing Pod with stunning views If you are going for a short break all you need to take is a towel,,food for the BBQ and beer/wine. Absolutely EVERYTHING else is provided...including the marshmallows for toasting! Totally relaxing weekend. We will definitely be booking again.