The Number 34 Bus
Hindford, Shropshire,SY1 4NR
Sleeps 4

(max 4 adults, 3 children)

Cooking facilities
Beds Provided
Bed Linen Provided
Towels Provided
Electricity
A quirky single-decker bus in the peaceful backwaters of rural Shropshire.
Bespoke oak kitchen with plenty of utensils and gas cooker
Wood burner with a complimentary basket of coal and logs
Bed linen is provided for your stay
Book glamping accommodation at glamping site Campio-Glamp
This quirky single-decker bus from a local bus company has been created and renovated by the campsite owner, every bit of detail has been carefully thought of to ensure you have a comfortable relaxing stay! The bus sleeps up to 4 people with a double bed and a bunk bed fitted inside. The beds are comfortable and bed linen is provided for your stay (tea towels,towels and a bathmat are provided too!) The bus has a handmade bespoke oak style kitchen with a vintage Belfast farmhouse sink fitted in with the use of a cold water tap. You have full use of the kitchen utensils which include bowls and plates etc...You also have a gas cooker with a kettle and a wooden table with 2 chairs. To keep warm you have a stove nestled in the corner of the lounge surrounded by colourful tiles with a wicker basket full coal and wood. Battery powered led lights have been fitted in the bus as well as Tilly lights too, which really add to that homely feel. The lounge section of the bus has a comfortable vintage sofa opposite the stove with a blanket and if you wish you can use the hot water bottle which should be located in one of the cupboards in the kitchen. You have your own privacy staying in the bus as your located in your own 2 acre field. You can bring your own dogs but
the field is
not
dog proof, and also dogs must be well behaved as the neighbouring farmers have animals nearby! The shower block has hot showers and a compost toilet, it is located in the field and is for the sole use of visitors staying at the bus.
This rural retreat is situated on one of the first organic dairy farms in Shropshire dating back to 1970's. Packed with undisturbed wildlife it is the perfect destination to escape and get away from the modern world. Campio Glamp have a built a communal fire pit located in the field, you can collect your own wood in the surrounding hedgerows! As the owners do not live on the site PLEASE ensure you leave your number so a time can be arranged for them to meet you and get you settled in! Nearest pubs are the Jack Mytton which is 5 minutes away and also the nearest village is Whittingham with 2 pub restaraunts called the White Lion and Ye Old Boote Inn. Ellesmere is 20 minutes away with brilliant walks around the meres (Lakes), you can hire a rowing boat and also fish. There is also a lovely restaurant called the Boat House which overlooks onto the largest mere.
View Gallery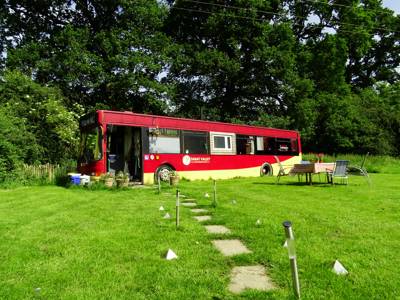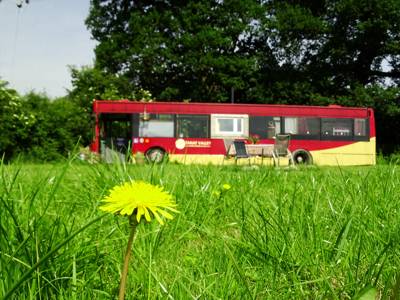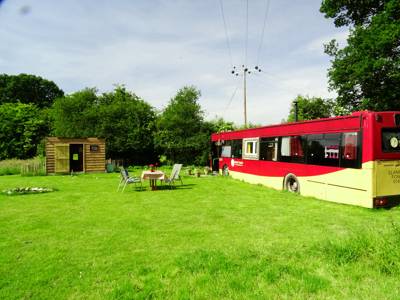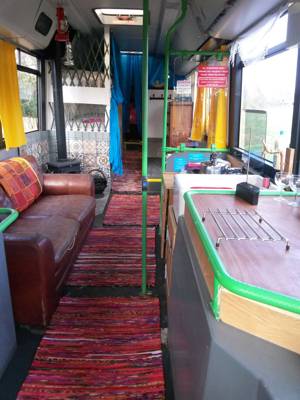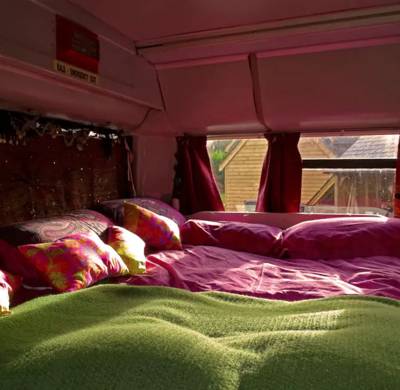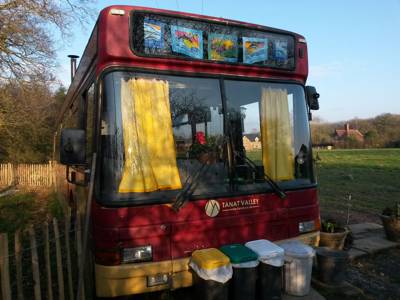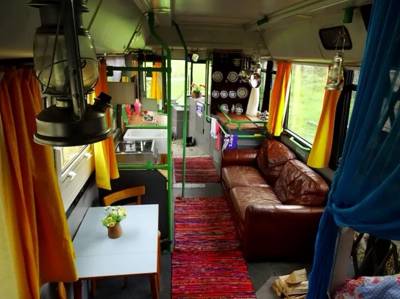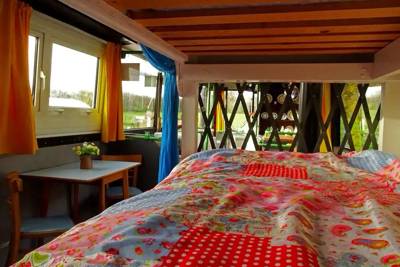 All aboard the glamping bus! A quirky place to kip in the peaceful backwaters of rural Shropshire.
We are a family run business based in the heart of rural Shropshire.
With a huge amount of help from loads of great people we have managed to lovingly create unique glamping experiences!
We hope that you enjoy your stays as much as we have enjoyed creating them!
Campio Glamp is set on an old diary farm dating back from the 1970's located in Shropshire. It is packed with undisturbed wildlife and plenty of brilliant walks in the surrounding countryside. Located on the farm in a private 2 acre field is the 'Number 34' a new renovated bus that the campsite owner has designed and installed himself, every bit of detail has been carefully thought of to ensure you have a comfortable relaxing stay.
Glamping Site Facilities
The bus sleeps 4 in a double bed and a set of bunks (all linen, bedding and towels provided). Bespoke oak kitchen with an old farmhouse Belfast sink (cold water only in bus). Vintage sofa and chairs. Separate cabin with gas-powered shower and composting toilet. Wood-burning stove, with a supply of logs and coal. Battery powered lighting and tilly lamps. Cool box made from up-cycled fridge. The owner's mother-in-law, Margaret, practices lymph drainage and reflexology if you need a little extra relaxation.